Aanbevolen links:
Weersverwachting
Digitale Klok
a new sonic character (echidna)
Darkspine Sonic is Sonic's newest super form. Darkspine Sonic appears at the end of Sonic and the Secret Rings. When Sonic accidentally absorbs the power of the World Rings, he is transformed into an angrier version of himself similar to Dark Super Sonic from Sonic X.

Darkspine Sonic's quills point downwards and he turns a deep indigo color (which is much brighter in the CG scene). He loses his pupils, shoes, and mouth and his muzzle, chest, and ears turn white. He wears giant rings around his wrists and ankles and gains two stripes on the top of his head and the middle quill of his back (effectively making him look like a Dodge Viper). He is also surrounded by an aura of fire.

Darkspine Sonic is able to fly, but is not invincible and doesn't depend on rings. He can be attacked just like regular Sonic and can keep his form with no rings. Unlike Super Sonic, Darkspine Sonic takes a more physical approach to fighting as he attacks with barrages of punches and kicks as opposed to Super Sonic's head butting. Additionally, Darkspine Sonic has a much gruffer voice than normal.


zelfgemaakt

this my first one zelf maked info now:Alf-Layla-wa-Layla is the final boss in Sonic and the Secret Rings. Sonic fights him in a Darkspine form from the World Rings of Hatred, Sadness, and Rage.


Erazor Djinn is a genie who serves as the primary antagonist in Sonic and the Secret Rings. He is voiced by Masashi Ebara in Japanese and Peter Cormican in English. Erazor is the Genie of the Lamp from the tale of Aladdin and the Magic Lamp. In his story, he was punished for misdeeds, and was to remain in his lamp until he had granted the wishes of one thousand people. When he had fulfilled his sentence and was finally freed, he had a renewed hatred of the creator of the stories, and began to take over the Arabian Nights, twisting the words that supported the stories into spirits that followed his command. He attempts to absorb the pages of the book, so he can control the entire world of Arabian Nights, as well as make his way into Sonic's world. He curses Sonic by embedding a flaming arrow in his chest. The curse made it that when the the flame completely burns out, Sonic would die. Erazor makes a deal with Sonic: bring the Seven World Rings to him and he would remove the arrow, but because of the curse, he only had a limited time to find the Rings. Unbeknownst to Sonic, Erazor did not intend to help, but instead to use Sonic as a sacrifice to fulfill the prophecy of opening the gateway between worlds and gaining ultimate power.

After the rings are collected, Erazor needs to sacrifice Sonic to utilize their full power. As he made his strike, Shahra gets in the way to save Sonic. She slowly dies, begging for Sonic's forgiveness. With the power of the World Rings, Erazor transforms into Alf Layla-wa Layla (which translates to 1,000 and 1 Nights in Arabic), and prepares to recreate the Arabian Nights in his own image before moving on to Sonic's world as he himself WAS the Arabian Nights, though he is incomplete because Sonic is still alive. Three of the World Rings get fused into Sonic, transforming him into Darkspine Sonic. Erazor Djinn then battles Darkspine Sonic trying to sacrafice him as the distant voice of Shahra guides Sonic. After the battle, Erazor reverts back to his normal form, as well as Sonic. Erazor boasts about being immortal, and that he'll always come back after defeat. However, Sonic uses the magic lamp given to him by Shahra, which was inactive at the time, and uses three wishes: to bring Shahra back to life, to restore the stories of the Arabian Nights, and to seal Erazor Djinn away in the lamp for the rest of time. Helpless against the mystic powers of the lamp, the defeated genie was forced to grant them all, and doomed himself to his eternal prison. Sonic later dropped the lamp in the lava pit where Sonic battled the Ifrit Golem and destroyed Erazor.


Can you feel the sssssunshine? Does it frighten up your day? Don't you feel that sssssometimes..... it will suck your SOUL away???The Tails Doll is one of the strangest and most mysterious of Sonic characters. Debuting in the racing game Sonic R as an unlockable character, the Tails Doll was unlike any of the other robo-copies of Sonic & pals. It was ominous, silent, and simply floated about the race track aimlessly..... and it looked creepy. And whats with that weird jewel? Even its artwork portrayed it as a bit surreal, and since then he has gain a cult following of fans who embrace the creepiness of the Tails Doll. Some even say it is cursed, and will suck out your soul if you unlock him.....
zelf gemaakt
Vector the mean, green, jammin' machine Crocodile is the leader of the crack crime-fighting detective squad, Team Chaotix. First debuting in the "Sonic the Hedgehog Band!" unused graphic from the original Sonic the Hedgehog's sound test(where he is shown playing the keyboard with Mach, Max, Sharps, and Sonic), Vector has since made a name for himself amongst the Chaotix team. In Knuckles Chaotix, he was recruited into the team along with Knuckles, Mighty, Espio and Charmy, and together they were able to stop Eggman and Metal Sonic from taking over Angel Island. While Knuckles and Mighty went their own ways afterwards, Vector ended up becoming the new leader of the team, with Charmy and Espio in tow. The group made their triumphant return in Sonic Heroes, where their role as "detectives" was established. Being the leader, Vector fancies himself an super sleuth who will take any case that pays the cash. While he acts tough, he is truly good natured and won't dirty his hands with shadier work, and will even work for free on small jobs like finding lost toys for children. Ability wise, Vector makes up the power portion of the team with his massive bulk and strength. He has a powerful set of jaws, which can crunch a robot in half quite nicely. He can also use his big mouth for blowing large bubbles of gum and floating, blasting his fiery bad breath, launching his teammates at opponents, and of course his notoriously bad singing skills. Overall, Vector is a big croc with a big heart, and is generally well liked amongst the Sonic community. But he still can't find the computer room.

Tails, the famous sidekick, mechanic, go-to-guy and best buddy of Sonic the Hedgehog has been a driving force in the Sonic world since his debut in Sonic the Hedgehog 2. A fan favorite and overall cuddly critter, Tails' mechanical prowess and ability to fly with his twin tails have been an undying asset to the Sonic crew for many game. While in later years he has been plagued with a number of poor voice actors, and his talents haven't put to playable use as much as they should have been, he still remains the only character truly worthy of the "Sonic's Sidekick" title. Also I heard he grabbed a chainsaw once.

The robot form of Knuckles the Echidna has had few appearances throughout the series, but is still an unarguably badass bot. As he debuted in the Saturn racing game Sonic R, Metal Knuckles is to Knuckles what Metal Sonic is to Sonic.... obviously. Outfitted with claws that can break through stone, massive strength, jets for far superior gliding, and just-as-good speed, Metal Knuckles is statistically superior to his meat-filled fuzzy red counterpart. However, nothing can beat the mind of the original. While the main red version of the Metal Knuckles model has yet to appear outside Sonic R, he has had a later incarnation in Sonic Advance, often known as Mecha Knuckles. He is a little different, at first being disguised as the real Knuckles, and being broken down into an unpainted, gray metal model. Despite such, the idea of a robot version of Knuckles is still beyond badass, and many fans have clamored for a return of the menacing rad red robot - one that delivers.

Charmy the Bee is another member of the Chaotix, debuting in the game of the same name. Being an insect, Charmy is one of the smallest characters in the series, but what he lack in height he makes up for in speed and energy. In the original Chaotix game, Charmy was written to be 16 years old, and traveling to find rare flowers. However all the Chaotix characters were re-written and given new personalities in Sonic Heroes, where Charmy was re-written to be a hyperactive 6-year old with ADD. Lacking in power and sanity, Charmy exhibits the ability to fly consistently, almost never touching the ground. He is also very fast(being the first insect to break the sound barrier) and can sting the crap out opponents with his pointy rear. He's also an expert on flowers, and can use them to the team's advantage. His role in the Chaotix team is seen largely as something of a "mascot", and his purposely-annoying, hyperactive(and sometimes borderline retarded) personality hasn't exactly won him points with fans. Regardless, Charmy is one of the lesser-hated of the "hated" characters, and I personally find nothing wrong with him, for he provides the funnies. Charmy has toned down and lost a little personality since 4Kids took over the voice work, but I wouldn't consider that a good thing.

From the Sonic Riders racing spinoffs, Wave the Swallow makes up the female third of the notorious band of theives, the Babylon Rogues. With Jet the Hawk and Storm the Albatross finishing the rogue roster, avian aces are experts when it comes to Extreme Gear - futuristic hoverboard-like devices used for extreme racing and sports. Of the three siblings, Wave has the greatist mechanical skill and understanding of the Gear, and all of the team's gear are her design. Stemming from her mechanical skill, Wave has been known to use a massive wrench to attack her foes, as well as dynamite. Personality wise, Wave is smart, outspoken, and not afraid to criticize others and speak her mind on subjects. This is usually bad news for Jet and Storm, as she more than frequently tells the two of them off when they're being lazy/stupid. She takes much pride in her work(maybe a little too much) and considers Extreme Gear inferior to her's as pieces of junk. She's also not afraid to cheat, and is even more scheming and precise than her teammates when it comes down to it. Overall, she is a smart, calculating, behind-the-scenes driver who speaks her mind. Or a coniving, control-freak bitch, whichever you want to call it.

The Gizoid is an ancient robot, over 4000 years old, built by an ancient civilization that predates even the Echidnas. The Gizoid has an epically destructive power - the power to assimilate any and all actions, attacks, and abilities it sees and use it to full extent. It was first discovered by Prof. Gerald Robotnik, long before the whole Shadow/Black Arms mess, where it assimilated the Ark's technology, went on a berserk rampage, and killed a bunch of people before shutting down and falling in the ocean. Good times. In the fighting game Sonic Battle for the GBA, the Gizoid was later discovered by Eggman (who copied its designs to make the E-121 Phi line) and then eventual by Sonic and pals. Once it was found out that the robot could use Chaos Emeralds to increase it's abilities, Sonic and co. decided to nickname the bot "Emerl". They continued to make an effort to teach Emerl plenty of moves and abilities. In game, this translated into giving the player their own customizable character, whose moves could be taken from any and every other character in the game and mixed and matched to the best of their abilities through an intricate Card System. Emerl would even take on the personalities of the characters he's copied, shouting out phrases they would say and acting in the same manner. Eventually however, he overloaded with power(thanks to Eggman) and went on a berserk rampage, where poor Sonic had to put him down. Emerl still lives on through his successor, G-Mel(who also went on another berserk rampage), whom Tails implanted Emerl's memory into after Sonic Advance 3. While being a GBA handheld exclusive character entirely, Emerl was at least somewhat well recieved by fans, as was Sonic Battle. At least until he goes on another berserk rampage.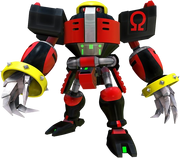 Continuing the early trend of stereotypical female characters, Boobs the Ba.... I mean, Rouge the Bat made her debut in Sonic Adventure 2. A treasure hunter and jewel theif who sucks at not getting caught, Rouge acts as a secret agent/spy for the Guardian Units of Nations(GUN), presumably so they'll expunge her criminal record. She is quite frequently given missions that often tie into the events of various games, and often she's just assigned to keep an eye on Sonic & pals... especially Shadow. However, this never stops her from going off on her own treasure hunting tangents, due to her obsession with shiny objects(but hey, who can blame her? They're SHINY!). Abilities wise, Rouge is a skilled martial artist who specializes in powerful kicks, strong enough to boar through rock and earth. She also has bat-like powers in that she can fly and emit hypersonic waves(called the Black Wave), and she has lately employed the use of gadgets like Bat Bombs. While Rouge tends to be flirtatious and deceptive with pretty much any male character, it has often been implied that she might've been created as a love interest for Knuckles, and later Shadow. The rest is just fan speculatoin/drivel, though.


Storm the Albatross first appeared as one of 3 playable avian characters in the Sonic futuristic racer, Sonic Riders. Storm makes up the muscle of the Babylon Rogue's racing/thieving squad, and is very loyal to Jet the Hawk, whom he sees as both his boss and his best pal. Both in movement and in voicing, Storm comes off as a rough and tumble, no-nonsense brute, often attempting to solve his problems with violence first and ask questions later(if he remembers). However, this appears to be a bit of a facade, as when he feels he's done something wrong or screwed up, he goes to pieces and apologizes (even if its to one of Eggman's robots whom he accidently smacked). Storm is very self-conscious and doesn't take criticism well, and overall just tries to do his best in helping the Rogues, despite not being the brightest bulb in the bunch. Storm's strength and massive arms allow him to effortlessly pelt away objects in his path, flatten his foes, and create powerful gusts of wind with just one flap. He's also an expert Extreme Gear rider, and has great balance and speed despite being so large. Among fans, Storm is about on par with Wave and Jet in popularity, often disliked for his over-the-top voice acting and random bouts of stupidity, but favored for his creative design and abilities (he's often compared to Bark the Polar Bear). Unfortunately, rumor has it that his skills suck.

Mighty the Armadillo aka Mighty aka the "Prototype Sonic" aka God aka CRIMSON LORD OF THE AWESOME, has a complicated background in the Sonic continuity that most mainstream fans have never even heard of. Before Sonic's first game was marketed and the character was even out of concept production, the team now known as "Sonic" Team eventually came down to 2 designs for their new fast-runnin', spin-rollin' Sega mascot character: a hedgehog and an armadillo. While it is now obvious which one they chose ultimately, the evidence points to that this armadillo character is the concept that eventually became Mighty the Armadillo. Mighty's first "official" appearance was in the trackball arcade game SegaSonic the Hedgehog, where he, Sonic, and Ray the Squirrel teamed up to defeat Robotnik, and topple his Eggman Island. Since then, he made a reappearance in Knuckles Chaotix, teaming up with Knuckles, Vector, Espio and Charmy as part of the Chaotix team. In the game, he exhibited super speed and spinning moves much like Sonic, as well as the ability to do fast wall kicks to gain height or distance (in most other continuities like the Sonic comics, as well as in the english Knuckles' Chaotix manual, Mighty has been said to have super strength. Strangely though, he has never canonically demonstrated this ability in any official Sega games, though it is a generally accepted ability among most fans). Unfortunately, this would be his last appearance in a Sonic game, as he was strangely excluded from Team Chaotix during their return in Sonic Heroes. While Mighty's status is currently listed under "scrapped", he still has some influence in the Sonic fanbase. He's one of the most wanted scrapped characters to return to the series(along with Fang), he placed 10th in Sega's Sonic Character popularity poll, and has since been a provider of Chuck Norris-ish facts among internet forums, regarding his unspeakably awesome power. Which are all true. Every. Single. One. Seriously, you don't **** with Mighty.

and cheese the chao.
The adorable pair of bunny and blob thing, Cream & Cheese debuted in the handheld Sonic Advance 2, and have made many appearances since. Cream differs from other Sonic characters by being a pacifist, disliking combat. Instead of fighting herself, she lets her pet chao Cheese(who is apparently not a pacifist, and a never-ending source of UNSPEAKABLE POWAR) do the fighting for her while she simply points at whatever she wants to die. Yeah. Cream is infamous for her rather poorly done voice acting and over-use in many games, but she has her fans as well.

no better picture vind.
Technically not a Sonic character, Honey the Cat's first and only appearance in the Sonic franchise was in the arcade Sonic the Fighters fighting game, which was developed by Sega's AM2 team and based off their already-popular fighting series, Fighting Vipers. It is a character of the same name from this game whom Honey is based on(pictured above on the right, though she is called "Candy" in America), and they share both the same outfit and same playful, spunky attitude. While Honey the Cat was cut from the final build of the game for unknown reasons, hackers have been able to pull her from the depths of the game code to reveal that she was an almost 100% complete playable character, missing only a face-off animation before the start of the match, and some freaky eye callibration issues. Because of this, she has entered the realm of Sonic fandom as a mysterious "lost character", despite that she's just another form of an already established character in a separate series. She has recieved much hardcore Sonic fan appeal and fanart, and is a generally likable character, even if looks are the only real basis.

Princess Sally Acorn, daughter of King Maximillian Acorn, is quite possibly the most well known and prominent characters in non-canonical Sonic history, and is well known for being Sonic's first "official" love interest. Her earlier incarnations presented her as a snarky yellow cat/squirrel thing(seen above) and later as a pink-furred chipmunk(and later again confused from with Amy in the Sonic CD manual). Howver the true Sally herself has always been seen as a brown chipmunk gal with some awesome blue boots. Differring between continuities of cartoon and comics, Sally has always been portrayed as the princess of a kingdom under oppression by Dr. Robotnik, and a prominent member of the Freedom Fighters to defeat the menace and his evil roboticizing ways. Together with Sonic and many other fuzzy friends, she resides in Knothole Village and remains locked in an endless struggle to rescue her father, the King, from the fatman. While she doesn't possess much fighting skill/strength, she is incredibly smart and uses a special multi-purpose handheld computer named "Nicole" to support Sonic and crew in missions. She's also the only female Sonic character brave enough to walk around near-naked. Awesome.

zelf gemaakt
zelf gemaakt
zelf gemaakt
zelf gemaakt
zelf gemaakt
zelf gemaakt
zelf gemaakt
zelf gemaakt
zelf gemaakt
zelfgemaakt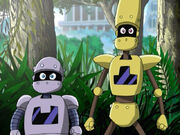 are characters from Sonic X. They are Dr. Eggman's personal humanoid assistant robots. Decoe is a tall, slim and gold-colored, while Bocoe is short, stubby and silver. They are almost constantly seen with Eggman, helping him pilot his machinery among other things. The two do not have much in the way of personalities, but are somewhat clumsy and stupid, similar to Scratch and Grounder from Adventures of Sonic the Hedgehog in sense that only provide comic relief. Decoe is 198 cm tall and weighs 200 kg,[1] while Bocoe is 145 cm tall and weighs 220 kg.[2]

Both tend to constantly reflect on their constant failures and both tend to insult Dr. Eggman behind his back and are constantly irritated by Bokkun. In one episode when Eggman's base is attacked, they mistake Eggman for an enemy and try to shoot him down.

Decoe and Bocoe can also "combine" in various ways. The first one, where Bocoe sits on top of Decoe, gives them the ability to summon Bokkun via a light signal sent from Decoe's eyes (seen in Episode 49). The second one is somewhat more useful in combat, as they combine into a rocket launcher (seen in Episode 75). They also have a common dream that they can combine into a powerful battle robot, but it is merely a fantasy (seen in Episode 48).

In the Japanese version of Sonic X, Decoe is voiced by Ken Yamaguchi, while his American voice actor is Andrew Rannells. Bocoe's Japanese and English voices are provided by Bin Shimada and Darren Dunstan, respectively.
from sonic X
wil je de sonic zine mario zine evil zine of mysite zine stuur dan een e-mail onderaan de pagina met een sterren code van nintendo.nl zo'n kaartje die je bij nintendo spellen krijgt en de naam van de zine en je postcode, plaats, straat, straat nummer, naam en land.

(je kan ook hier onder klikken)
Merlina is a sorceress from Sonic and the Black Knight, formerly the Royal Wizard, and the granddaughter of the famous Merlin. She is voiced by Melissa Hutchison in the English version and Mamiko Noto in the Japanese version. In addition to her magical abilities, Merlina appears to be quite strong physically, able to grab Sonic by the hand in mid-run and effortlessly hold him back.

When she is cornered by the Black Knight, she performs a summoning ritual and warps Sonic to her location. Instantly realizing what is going on, Sonic effortlessly defeats the Black Knight's minions (much to Merlina's surprise), but Merlina stops him from attacking the Black Knight himself and teleports them both away. After the two introduce themselves, Merlina explains the situation to Sonic and what had happened to King Arthur (now the Black Knight). Merlina then helps Sonic recover the sword Caliburn from the cliffside at the Misty Lake. She then tells Sonic that due to everyone knowing her appearance, she must hide in order to keep the enemies off her. She then disappears before reappearing right before Sonic and the Black Knight face off for their final battle. When Sonic defeats him in a one on one sword fight, Sonic watches as he mysteriously fades away like he was one of his own minions.

It's at this point that Merlina is revealed to be the true villain of the story. She reveals her dark intentions after Sonic returns with the Black Knight's scabbard and she uses a dark magic to begin consuming the lands. Sonic and the Royal Knights are forced to flee before the Lady of the Lake tells about how to stop her. They bring their swords to each of the four shrines across the lands to form a barrier, but it is too weak. Still, Sonic and Caliburn rush back and enter the Dark Hollow, where they find Merlina transformed. Merlina reveals that her plan was to undo her grandfather's "mistake" and keep the world of King Arthur alive (the opposite of Erazor Djinn's intentions in Sonic and the Secret Rings as he wanted to erase the Arabian Nights world). She told Sonic that she already knew how their kingdom would fall and said that she did not want that to happen. Furious at Merlina's words, and unwilling to comprehend her sorrow and intentions, Sonic attacks her, but she generates a barrier that he cannot break through.

Merlina then summons a monstrous creature that appears as the Black Knight with more arms wielding massive swords. Sonic presses his attack, but is brutally beaten by Merlina, and Caliburn is broken in half. Despite Merlina's advantages and the Knights' orders to run, Sonic refuses to quit, determined to stop Merlina no matter what. His "never give up" attitude shines brighter than ever. Using the true power of Caliburn and the rekindled Light of the Sacred Sword to transform it to Excalibur and himself into Excalibur-Sonic. He then faces Merlina, transformed into The Dark Queen as the final boss. During the fight, she questions if Sonic's intentions behind trying to stop her is to see the end of the world and talks about how Sonic cannot comprehend why such beauty as her world should last for eternity, only for Sonic to reply that a world without an end just sounds "boring" to him and that as long as he continues running, his stories will never end. Breaking through her defenses and delivering the final blow with Excalibur, the Dark Queen evaporates into flames, the kingdom begins to settle, and Merlina is rendered powerless.

Merlina continues to lament the fate of her world, but Sonic gives her a flower and comforts her, telling her that, while every world has to come to an end, they just have to live life to the fullest until then. Merlina thinks of her grandfather and apparently takes Sonic's words to heart. Despite not seeing her reaction, she is also present when Caliburn revealed that since it was his power to choose who would bear the crown, ultimately revealing Sonic is the one and true King Arthur.

Merlina has two songs, a slow piano theme for when Sonic speaks with her, and With Me when she is the Dark Queen (this song is probably shared as the theme for Excalibur Sonic also).


he a ilusion and his sword deadcalibur
one of the knights of the round table
in the game there is a mission lancelots return one of the knights of the round table
one of the knights of the round table

whit his sword caliburn
The peace loving member of an ancient echidna tribe and daughter of the tribe's cheif Pachacamac, Tikal is sweet and loving girl who want only peace an harmony in the world, and gave her life to do so when she sealed away the enraged Chaos in the original Sonic Adventure. An ancestor of Knuckles, she has not seen any story action outside of her supporting/guide role in her debut game, though she has made a few appearances since. A Sonic character that virtually nobody hates(which is rare, believe me), she upholds one of the few non-stereotypical ends of the female Sonic characters.

Flash Calender
Poll
E-100 Alpha (codenamed ZERO) is a villain from the Sonic the Hedgehog series. Playing a major role in the video game Sonic Adventure, Zero is a giant green and black robot with red eyes that many people say resembles a trash can with large arms and wheels. Zero made his debut by chasing a blue flicky who had taken refuge with Amy Rose. Zero chased Amy around Station Square and ran into Sonic the Hedgehog. Zero caught up with Amy in Twinkle Park and took her to the Egg Carrier. Amy managed to escape from her prison cell with help from E-102 Gamma and wandered into the Hot Shelter, where Zero found her and started chasing her again. Zero lost Amy again, but then travelled to the Final Egg base in the Mystic Ruins, where he found Amy and the flicky exploring the base. Amy and the flicky escaped Zero and returned to the Egg Carrier, where they found the bird's parents, whom were inside E-101 Beta and E-102 Gamma. Zero then attacked and knocked out the small flicky. Amy got mad and challenged Zero to a fight. Zero was a tough competitor, firing shockwaves and swinging arms that Amy found hard to avoid. She then defeated Zero by slamming him into an electric fence and short-circuited him, and a compartment popped open in Zero's head. Amy with one final cry smashed her hammer into the compartment and blew Zero's head in, destroying him. Curiously, unlike the other E-Series robots, there is no animal inside Zero.

Zero makes a cameo appearance in Sonic Advance 2 as an obstacle in the special stages.

Klik hier om naar mijn forum te gaan
Lumina is a friendly pixie who debuted in the Dreamcast party game, Sonic Shuffle. She is from Maginary World whose job it is to guard a relic called the Precioustone. When it is shattered by Void, Lumina enlists the aid of Sonic & company to collect the pieces and repair, in Mario Party ripoff-esque fashion. She acts as your guide throughout the game, but is not playable. In the outcome of the game, it is revealed that Lumina is really only half of another entity named Illumina, with Void being the second half.
Blue streak, speeeeeds by! Sonic the Hedgehog! Too fast for the naked eye! SONIC THE HEDGEHOG. If you don't know who this guy is then you shouldn't be here, or anywhere for that matter because you suck. Everyone's favorite blue blur has had over 17 years of highs and lows and is the synonymous figurehead of Sega, and an international gaming icon - so much to the point to be frequently compared to the king of gaming himself, Super Mario. Rolling around at the speed of sound, Sonic possesses not only his signature super speed and spinning attacks, but also stunning acrobatic and martial arts skill, the ability to kick up tornadoes in the blink of an eye, and has even learned to use Shadow's Chaos Control. When Sonic gets all 7 Chaos Emeralds, he transforms into the invincible golden Super Sonic, capable of mass awesomeness. However some will agree that Sonic has fallen on rough times lately, what with the corniness, teamwark, and just too much dude and not enough 'tude. While 90's Sonic will always reign supreme, does the "new" Sonic still have what it takes?

The super psychic silver-furred hedgehog from the future, Silver made his debut in Sonic the Hedgehog(2006) as one of the main 3 playable hedgehogs. He has come back in time to save his future world from a calamity called the Flames of Disaster, in which he is lead to believe is Sonic the Hedgehog himself. Unlike all the other hedgehogs, he uses Psychokinesis(though... its actually telekinesis...) in substitution of super speed, being able to levitate objects and himself with his mind. While the outcome events of Sonic 06 are rather sketchy, Silver has made many more playable appearances in recent Sonic games, despite plotholes and time paradoxes. He is often paired with partner in time, Blaze, also from the "future".

The ancient beast whom the Chaos Emeralds are named after, everyone's favorite amorphous blob (who isn't GE) has been making on and off apperances in the SOnic series since his debut game, Sonic Adventure. Chaos is a water-based creature who has lived for many centuries, and is said to be the originator, guardian, and God of all Chao. He has the abilities to absorb the energy of the Chaos Emeralds into himself and transform into more powerful forms, the strongest being the monsterous Perfect Chaos, capable of destroying entire civilizations. Chaos is quite a well-recieved character, being shrouded in mystery and unique in design, and just badass in general. While he did start the whole "random giant ancient monster Super Sonic has to fight" trend that has plagued basically every Sonic game since, many will agree that the original is better than the copies.
geen beter plaatje beschikbaar
Probably one of the most notorious characters for mainstream Sonic fan-hate is Big the Cat. First appearing in Sonic Adventure, Big offered something to the series that.... well.... no one wanted. While other characters in Sonic Adventure had fast-paced action themed levels(running, racing, exploration, puzzles, and shooting), Big the Cat had..... fishing. A very laid-back character doing a very laid-back activity in a fast-paced Sonic game didn't exactly make sense, and this has easily been the biggest gripe fans have had about the game ever since(that and the camera). It didn't help that Big's personality was something people don't generally tend to look for in a "cool" character - he was, simply put, fat and stupid. This trend of putting non-Sonic gameplay with non-Sonic character personalities in Sonic games(and consequentially lessening or ruining what would've been a great game) would be something Sega would continue to do for many years, never learning from their mistakes - and this essentially started with Big the Cat. Regardless, Big still has his fans; those who are willing to see past Sega's poor handling of his gameplay and voicing, and are able to realize his lovably oafish nature. He is often paired up with his amphibious pal Froggy who always seems to run away or get kidnapped, setting the normally docile, carefree, and laid back cat into adventurous motion. While this flabby tabby is mostly non-violent, he still has massive strength and can use his girth to flatten his foes. His fishing pole packs a wallop, both for smacking enemies and catching them on the hook. Big also has no fear of water(despite being a cat), and has no problem trudging through poisonous bogs and swamps. Big also has a habit of making random, hard-to-spot cameos in levels of Sonic games, namely Sonic Adventure 2 and Sonic & the Secret Rings. No one knows how a cat so big can hide in the oddest places...
Vanilla is the mother of Cream the Rabbit, and plays more or less of a supporting role in few games. She was captured by Eggman in Sonic Advance 2, where she debuted, and eventually saved by her daughter and everyone's favorite blue hog. She doesn't get much screen time and is a bit generic, though she was never that important a character. In the Sonic X continuity, she has connections with The Chaotix, hiring them to find/keep an eye on Cream while she was out with Sonic & pals. It even went as far to show a possible love interest between her and Vector the Crocodile..... yikes.... what would their kids look like?

G-Mel (or Gemerl, the character doesn't seem to have an official name) was a robot created from the remains of his former self, the ancient Gizoid "Emerl". He was rebuilt by Dr. Robotnik, and used to combat Sonic & company in Sonic Advanced 3 at various points of the game. While his predecessor Emerl possessed the ability to copy others and gain new abilities, G-Mel seemed more cleancut, employing various abilities like his super speed, teleporting, and guided missiles. Like his predecessor however, he eventually went berzerk again(for the... what.... 3rd time?) and betrayed Eggman AGAIN. During this period he transformed into a massive sphere-like machine to combat Super Sonic in outer space with giant lasers(where have I heard THAT before...). Though he was predictably defeated by the golden hog(who of course had to team up with Robotnik to do it), the robot survived the attack and fell back to earth, in his reverted G-mel form. It was here where he was discovered by Cream and taken back to Tails' lab, where the fox reprogrammed him to be good, and (assumingly) gave him back some of his memories of when he was Emerl. While Emerl/G-Mel have not made an appearance since, it is assumed that he still lives with Cream & Vanilla, continuing to be the most awesome toy a 6-year old kid could ever want. And maybe doing dishes and laundry or something.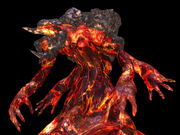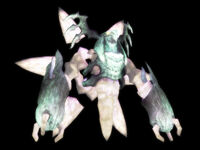 Continuing the trend of "giant final boss monster that Super Sonic fights", Solaris was that unlucky candidate in the ill-fated Sonic the Hedgehog 2006. Solaris is actually the combination of two entities, Iblis and Mephiles, and is technically the most powerful character in the Sonic series(after Mighty & Cheese), as it took not one, not two, but THREE Super Duper Hedgehogs just to destroy him. Eventually, he was deus ex machina'd and erased out of existence, making one wonder what the point was. Solaris has a fire & sun theme and uses attacks as such(complete with the prequiste giant lasorz), and is capable of altering time and space itself. He's pretty much your standard, run of the mill 3D Sonic final boss, if not a bit more angelic. But hey, he's got some catchy boss music.

zelf gemaakt

First introduced in Sonic Adventure 2 along with the Dark Chao, the Hero Chao are an evolution of the Chao A-life system introduced in the original Sonic Adventure. The Hero Chao provide an entire new evolutionary line of Chao after the "baby" stage, this taking on a cute, innocent, and angel-like appearance. Hero Chao were attained by raising a Chao primarily with "good" characters, namely Sonic, Tails, and Knuckles. While there are dozens of types of Hero Chao, the greatest evolution is the Angel Chao(pictured to the left), a beautiful and immortal Chao that parallels the Chaos Chao.


Chris Thorndyke is 12 year old suburban kid with no friends. Appearing only as a main character in the recent Sonic X anime series, Chris is one of the only 4 characters in this tournament who has never appeared in a Sonic video game..... and hopefully never will. In Sonic X, Chris is the neglected child of two rich parents who meets Sonic by chance, and befriends him and his pals. Throughout the story, Chris goes on many adventures with Sonic & pals, mostly hogging the spotlight and adding little to the storyline. Many Sonic fans agree that Chris(and his corresponding human pals) were all very unnecessary additions to what would've been a decent Sonic cartoon, and in a sense "ruined Sonic X". His infamous-ness and collective disapproval is what landed him recognition in this contest.

Back in the day of Sonic's creation where concept art, rabbits, and Jessica Rabbit ripoffs reigned supreme, our favorite blue hedgehog lead a double life as the lead singer of his own Sonic the Hedgehog Band. And Mach the Rabbit was none other than his spunky drummer. Not much is known about Mach past his thrashin drum skills and smirking attitude(as he has never actually appeared in a Sonic game) but much like other forgotten characters, he has recieved attention from hardcore fans. And pink sounds like a bit of risky move but he TOTALLY PULLS IT OFF.

The second member of Sonic's old band, Max the Monkey gets his kicks playin' the bass. And anyone with half a brain knows that a monkey playing an instrument is automatic win. Like the others, not much is known about this chimp, but the days in which he and the group rocks again may still come.... maybe?

The final of the forgotten band members is Sharps the Seemingly Pissed Off Chicken. Sharps for whatever reason has garnered more attention from hardcores than the other band members, probably because of is ATTITUDE. Just look at him... he was to murder that hedgehog. HE SHOULD BE THE LEAD SINGER. Despite his heavenly clucking vocals, Sharps plays the guitar in the band and can probably shred like the best of them despite not having fingers. Just try not to think about it, and it'll make sense.

This is Speedy.
He's from Tails' Adventure.
He's a bird.
He can fly.
He's fast.
He's the son of Battle Kukku the 15th.
And he doesn't like you.

this is for GP and HD.
SCR GP/HD aka Robot #1 and Robot #2 debuted in the racing game Sonic Riders: Zero Gravity, the sequel to the original Sonic Riders. Upholding the Sega tradition of "wasting of character slots" that they demonstrated with the egg pawn characters in the first Sonic Rider, these guys were basically common enemies made playable. I mean, who needs cool characters like the Chaotix or Metal Sonic when we can play as badniks? I'm guessing their names stand for "Some Crappy Robot Grand Prix/High Definition" but I really don't care. At least they're cooler than egg pawns, and their overall design is at least creative. And they can turn into donuts. Everyone likes donuts.

Crikey! Whats this we got 'ere mates? Some kinda wombat critta? Ain't that a boon! She a cheeky little cobber, ain't she? But whats a 'coon got ta do with Aussies now, anyway? Strewth, she shoulda been a shozwozza if ya ask me! Okay enough of that. Marine the Raccoon first entered the Sonic world(or rather Sonic entered her world... or something) in Sonic Rush Adventure for the Nintendo DS. She is an Aussie raccoon... if that makes ANY sense at all... living on Southern Island in the same alternate dimension/future world that Blaze, Silver, and Eggman Nega come from. She has dreams of becoming the captain of her own ship and living a life at sea. However she's a bit headstrong and doesn't really think things through, running headlong into obstacles and often leading to disaster. While not playable, she served as a supporting character in the storyline. And by supporting character I mean she just yacked and yacked on about nothing for half the game. If you ask me, this character could've been great, had they made her playable and given her something to actually DO in the story...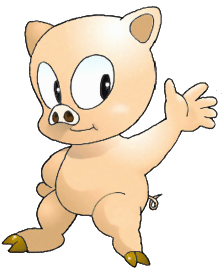 this is for all little annimals. Some of the most overlooked characters in the series, these little critters date back to the original Sonic the Hedgehog. Picky, Pocky, Pecky, Clucky, Ricky, Rocky - yeah, they all actually had names. The small animals have had many roles throughout the Sonic series, but they're most obvious and most used was that of being imprisoned inside Dr. Eggman's Badniks and having their lifeforce drained to power his accursed machines of destruction. It was Sonic's goal to free all his little buddies, either from smashing Badniks or from large, heavy storage capsules with absurdly placed release switches. They would proceed to skip happily away and taste the sweet air of freedom, without even a "thank you Mr. Spiky Blue Man". Ingrates. Anyway, they haven't been seen much in later games, as Eggman has opted out his animal power source system for the apparently much more efficient "nothing". But since then they have appeared in the Sonic Adventure series, in which they are collectable and used to give stat boosts and special looks to your Chao.

one of the little animails
little animals
one of the little animals
one of the little animals
one of the little animals
one of the little animals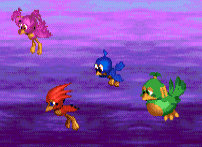 Flicky Island is the home of the mysterious Flicky Birds. They are very rarely seen and it is thought that their appearance is closely linked to the locations of the Chaos Emeralds. Sonic decides to check out Flicky Island. Robotnik, always after the prizes travels to the island. With his evil scientific genius he now knows the secret of the Flickies - they live in a parallel universe and come into this world via Teleport Rings.

Robotnik creates the Teleport Ring Generator designed to lure the Flickies over for him to do with what he pleases and yes again they are turned into robotic slaves.

Sonic arrives and find the island in turmoil. The Flickies must be rescued from their mechanical prisons and returned to their own dimension as well as getting the Chaos Emeralds before the mad doctor gets his hands on them.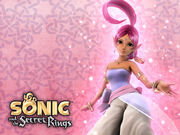 Shahra the Genie debuted as a guide and supporting character in Sonic's first motion controlled title, Sonic & the Secret Rings for the Wii. In the game, Sonic stumbles upon an ancient mysterious ring, which Shahra just so happens to call home. With putting on the ring, Shahra appears and tells Sonic of the turmoil of Arabian Nights, a world inside of the book of the same name. With Sonic as her new master(bow chicka wow wow), he agrees to help her save her world from the evil genie, Erazor Djinn. Shahra accompanies Sonic throughout the levels of the book in the form of a small ball of light, similar to Tikal in SA1. She then later allows Sonic to use special moves like Time Break and Speed Break to aid him on his adventure, as well as sage advice on the world and its lore. She can also grant Sonic's wishes and every desire(bow chicka wow wow), to a small point however. Regardless, she make thousands of hankies appear out of nowhere. She obviously draws this power from Satan.
.......... who? Yeah... okay, Witchcart was apparently the villain of the ill-fated Game Gear game, Tails' Skypatrol. In this convoluted mess, she apparently seized control of an Island and turned its inhabitants into crystals, and its up to Tails to stop her. But unfortunately, Tails has forgotten how to run and instead just flies around really slow and hits stuff. Yeah, anyway she was accompanied by 3 of her henchment, Fockewulf, Bearenger, and Carrottia, whom Tails had to defeat before he could make his way to the crazy Witch's railway, where she rode happily in a one-wheeled mine cart for the entire game. Weird. Thats about it.

Throughout the many non-game canon incarnations of Sonic the Hedgehog, Dr. Robotnik has always received some form of subservient, bumbling, or otherwise awkward set of sidekicks - Snively, Decoe & Bocoe, and of course the ever infamous Scratch & Grounder. Hailing from the mid-90's cartoon "Adventures of Sonic the Hedgehog" and the corresponding comics (and later the game Dr. Robotnik's Mean Bean Machine), these nincombots wrote the book on bumbling sidekickery, then proceeded to load it into a spinning racoon canon and fire it at a giant mouse trap made of plastic explosives and robot fish to trap Sonic..... or... something. As the proud founders of the Super Special Sonic Search & Smash Squad (SSSSS Squad), in every episode they would carry out the often absurd demands of His Grouchiness, Dr. Robotnik, and come up with farfetch'd, questionable, and downright idiotic plans to stop that blasted hedgehog from his shenanigans. With Scratch's snarky leader attitude and Grounder's dimwitted grasps for attention, most of their time would be spent arguing amongst each other over who Robotnik loved more, and constantly trying to outdo each other. Needless to say, this lead them to completely screw up and fail every mission given to them for our viewing pleasure. While the two dumbots have been more or less long forgotten by the mainstream, the two still have some form of nostalgic respect from old time fans who watched the show as kids. I wouldn't mind if they suddenly made a cameo in later games, just for the WTF factor. Till then though, they'll be making ends-meet discussing PINGASH on Youtube.

Both a timeless badnik and the third wheel of the SSSSS Squad, Coconuts is a robot monkey who has had many incarnations throughout the Sonic series. First debuting in Sonic the Hedgehog 2 for Genesis, he was one of the first enemies to encounter on the first level in the game, and was often seen climbing up and down trees and tossing coconuts at Sonic and Tails (hence the name). He later appeared in the AoStH cartoon & comics as the under-appreciated janitor bot for Robotnik's lair, and often times was teamed up with Scratch & Grounder. Similar badniks appeared throughout many games, including Sonic 3 and the Sonic Adventure games where the name was changed to "Kiki". All and all, coconuts is a simple yet timeless badnik who has become a series staple, who doesn't get the appreciation he deserves. Or maybe he does, I dunno. All I know is that he's a robot, and he's a monkey. How can you go wrong with that?

BRING ME THOSE BEANS! The year is '93, and in an attempt to bring the obscure Japanese puzzle title Puyo Puyo to the leagues of American gamers (with hopes that it would actually SELL), Sega upped and decided the best way to do so - slap a popular company character on the cover and watch the dough roll in. And thus Dr. Robotnik's Mean Bean Machine, the bastard child of Compile and Sonic Team was born. A carbon copy of Puyo Puyo with an AoStH paint job, the game featured googly-eyed puzzle pieces known as the Bean People. In the story (a story? For a puzzle game?) the nefarious Robuttnik (accompanies by Scratch, Grounder, Coconuts, and a number of other robutts) have kidnapped the good citizens of Beanville and are roboticizing them like its going out of style. With this being one of the only Sonic game where Sonic does not appear anywhere (which is hilariously ironic in the fact that the game only sold because it was under the Sonic brand), its up to the players to free the Bean People from 'buttnik's clutches through good old fashion puzzlin'. The Bean folk came in a number of colors, of which had to be mixed and matched and zapped away. They aren't really individual characters as they don't have much personality, or any personality, but hey, they still look kinda cute.

While the idea of a robot pirate essentially sounds awesome, Sega decided it'd be best to be consistent and take a cool idea, bastardize it to the point of pathetic-ness, and put it in a Sonic game. The dreadfully non-imposing Eggman look-a-like Captain Whisker is the result of this. As the "main villain" throughout Sonic Rush Adventure, Captain Whisker is a bumbling, clunky robot pirate captain who would misplace his head if it wasn't screwed on (although I'm sure he's missing a few screws as well). He was created by both Eggman and Eggman Nega(and gee they did a bang up job for the two greatest minds on the planet....s), along with his pirate buddies to act as a diversion of some sort to Sonic and co., and to find some kind of magic ceptor to rule the world.....s. However most of this time was spent bumbling around, running away from Sonic and forgetting where he was and what he was doing. He eventually did face down Sonic and co. with his first mate Johnny, where he employed use of a rocket arm and flame thrower. After his defeat, the two doctors took over the show. Whether or not he was destroyed or if he still bumbles on is unknown. Oh, and I still say he should've been a disgruntled pirate walrus. Opportunity for awesome missed yet again, Sega.
The Green Sea Sultan of Speed, the first mate of Captain Whisker and creation of both Eggman and Eggman Nega, Johnny is a sharky torpedo-headed robot pirate who fancies himself "the fastest thing on the sea". Because everyone likes to bite Sonic's style and call themselves the fastest something. In Sonic Rush Adventure, Johnny would travel the seas looking to challenge Sonic to a waterbike race, spouting his trademark "I DON'T THINK SO!" the whole way. Upon winning Sonic would receive a Chaos Emerald.... or Sol Emerald... I forget. Why Johnny didn't just use the emeralds to go faster and destroy everyone I will never know. Eventually Johnny teamed up with his Captain and took on Sonic & Blaze two on two, where he employed fast charging and boosting attacks. While exactly what happened to him afterward is sketchy, his legacy lives on in it's own Sonic Board meme, as it has recently been discovered that Johnny is, in fact, made of awesome.

King Boom Boo was a boss from Sonic Adventure 2. He was fought by Knuckles in the Death Chamber, and is king to all the ghosts in the ancient pyramid Eggman had occupied. While his ghostly minions would resort to jumping out of nowhere and scaring the **** out of you, King Boom Boo would attack Knuckles head-on in the eerie darkness of the temple. He would throw blue FIAHBAWLZ in his general direction and trying to gobble rad red up in his luminescent jaws. King Boom Boo hates the light, and will hide in a shadow whenever it shines on him. King Boom Boo later appeared again a few times in the Sonic X series, where he could talk(horribly) and command his ghostly minions. Overall King Boom Boo is different from other random bosses in the Sonic series by not being a random Eggman/Gun robot, and having a bit of personality. With his goofy laughs and appearance, he and his ghost pals made for quite the comical and creative enemies of (somewhat) equivalence to the Boos from the Super Mario series. Or maybe they were just annoying. Whatever.

Also known as the "Prototype to the Ultimate Lifeform" and the original "Project Shadow", the Biolizard is a massive, salamander-like monster created in by Prof. Gerald Robotnik in the floating science & research space colony, Ark. In his initial plan to create a non-aging, self-preserving "ultimate" lifeform, Prof. Gerald created this imperfect reptilian creature, who's body was unstable and had to be kept alive using a life-support system. The lizard eventually grew to enormous size and became violent, forcing Gerald and GUN to lock it away in suspended animation deep within the space station, while moving on to the next phase of Project Shadow. After GUN betrayed Gerald and he went insane, the professor decided to use the long-incapacitated lizard for other means. He "programmed" memories and instructions into the Biolizard as a fail-safe to his plan to destroy humanity wiht the Eclipse Canon, which was ultimately foiled by Super Sonic and Super Shadow 50 years later. The Biolizard was the second in the new Sega trend of "giant monster final boss vs. Super Sonic" and upholds all the qualities of such: mindless, no personality, ugly as butt, giant lasorz, doesn't appear until the end of the game, etc., etc., etc. He is also capable of Chaos Control, and uses it to "fuse" with the Ark to form the FinalHazard. Although by "fuse" I mean he just kinda shoves the long end up his ass, but who's keeping score?

The Zoah are a new breed of an alien race that are set to appear in the upcoming Bioware Sonic RPG, Sonic Chronicles: The Dark Brotherhood. Obviously, very little is known about them yet, other than that they will at some point be hostile enemies whom Sonic and crew must face. Their relationship to the Marauders is unknown, and whether they come from space or from another dimension is yet to be discovered. All that is certain right now is that they look pretty freakin' awesome. The name "Zoah" was a name that was actually decided by the fans, in Sega's "Race to Name" promotional event that occurred some months back. Several names were suggested, including the "Dusk", the "Crushers", and the "Guardians"(I still like Dionix, don't care what anyone says), but in the end the rightful name won - the one being something that wasn't already an english word. Seriously, why would aliens speak english? This isn't Star Trek.

Not to be confused with Metal Sonic, Mecha Sonic(also known to fans as "Silver" Sonic) was Dr. Robotnik's first attempt at making a Sonic robot. Mecha Sonic first appeared in Sonic the Hedgehog 2's Death Egg Zone as a sub-final boss. The first Mecha Sonic was an unfinished prototype that had not been tested thoroughly, or even given a paint job. While he was clunky and slow, he employed deadly attacks, like his spinning chainsaw quills, jet skates, and spike launchers. He could successfully mimic Sonic's spin dash as well, and his bare metallic look is what earned him the name "Silver" Sonic. Needless to say, he was easily defeated by Sonic, and Eggman apparently when on to his much better plans: Metal Sonic. Despite this, Robotnik thought it wise to give the old bot another go, and thus revived him in Sonic & Knuckles as the deadly Mecha Sonic MKII. Now fully complete and with a sweet blue paint job, MKII posed a much greater threat to Sonic & pals. Stationed as a guardian of the Sky Sanctuary(where Eggman had set up his latest Death Egg launch base) MK II employed many of his old tactics with jet skates and deadly spin attacks, with some new tricks as well. He even piloted some of Eggman's old machinery. Alas, he was defeated and deactivated by Sonic & Tails, who went on to stop Robuttnik's schemin'. Later on however, he would reactivate and make one final attempt to steal the Master Emerald for his master, using it's power to become Super Mecha Sonic. In his super form, he turned gold and could use a jet booster and various energy canons, but couldn't keep the form for very long. This was his undoing, and Mecha was soundly defeated by Knuckles once and for all. Since then, Mecha/Silver Sonic have not had a canonical appearance, but fans speculate that a certain robot that appears in a tube in the Final Egg of Sonic Adventure bears a striking resemblance.....
Most likely the most powerful(and most evil) robot every created by Dr. Robotnik is the nefarious Metal Sonic. Before Knuckles, before Shadow, before Silver, Fang, Jet, Blaze, or Johnny(though, arguably, not before Mighty), Metal Sonic was the very first, true "rival" character to Sonic the Hedgehog, and remains one of the toughest. Eggman's second attempt at a Sonic look-a-like robot remains by far to be his most successful model, able to match Sonic in both speed and strength. To do this, Metal Sonic employs a unique and complex AI system that lets him analyze and copy data from his foes through observation and battle, and then integrate that data into himself and even alter his internal structure. This "copycat" ability is what allows him to mimic Sonic and match his every move and mannerism, sometimes to the point where the robot believes he is the "real" Sonic. Despite this, Metal Sonic has yet to defeat his rival throughout their countless races and battles, and remains the most re-occurring badnik villain of the series. Metal debuted in Sonic CD, where he kidnapped Amy Rose and aided Eggman in his plan to seize the Time Stones. Since being narrowly defeated in said game by a wall, Metal made more playable appearances in side games like Sonic R and Sonic Drift, secret playable modes in the Adventure games, and a villainous role in Knuckles Chaotix where he transformed into a massive, red version of himself to combat Knux & company. He also appeared prominently in the Sonic the Hedgehog movie, where he (non-canonically) became Super Metal Sonic. He would not have another major appearance again until Sonic Heroes, where for the first time, he betrays his creator. Metal copies the power of Chaos(as well as all the other characters), thus gaining the ability to change his form, giving birth to both Metal Sonic Neo and the monstrous Metal Overlord. While his plans to annihilate Sonic and rule over robots everywhere failed, he was at some point recovered by Robotnik and apparently reprogrammed back into a mindless slavebot. In his most recent appearances(Sonic Rivals), he even has his own rival - Eggman Nega's Metal Sonic 3.0. Rivals for Rivals? C'mon.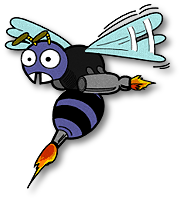 One of the most memorable badniks in the Sonic the Hedgehog series is the ever-classic Buzz Bomber. Part of Robotnik's first series of enemy robots for Sonic to face, this one resembles a robotic bee that flies by and bombs you with energy balls he shoots from his stinger - what more can I say? The Buzz Bomber model has had many iterations throughout the series, as well as roles and appearances in various comics/cartoons, but the Sonic 1 version(pictured above) is most memorable. Sadly, most of the oldschool badniks have not been seen since... well.... the olschool, so ol' Buzzy hasn't been heard of for ages. His most recent appearance was probably in Sonic Adventure 2, but only to players skilled and crazy enough to get all the Emblems in the game and unlock the elusive 3D remake of Green Hill Zone, where swarms of awkwardly huge 3D Buzzbombers fly in droves, in all their buzzing blue glory.

Chomping away at the bit for eternity, this memorable badnik is well known to anyone who has gotten frustrated with Marble Zone in Sonic 1. A surprisingly ingenius design on Robotnik's part, the only vulnerable spot on this bug is it's head. Hit anywhere else and it's pieces break apart and bounce around, and you're in a world of hurt. Rolling into it also doesn't always prove success, thanks to it's gaping teeth. While the ground-bound Caterkiller is mostly exclusive to the first Sonic game, he would have other, flying iterations in Sonic games to come, like Caterkiller Jr. in Sonic 3, and the large flying caterkiller-like robots in Sonic Adventure. Keep on chompin' pinky.

The very first badnik to ever appear before the player in a Sonic game - that is the triumphant being of all that is good and holy, Moto Bug. The first of the "one-wheeled charging robot" theme that Robotnik would later use in his Rhinobots and spining-blade bug bots, Moto Bug's pattern was of the utmost complexity: move back and forth. It takes true hard work and intuition to master the art once perfected by the Red Koopa Troopa, but only a machine as determined and capable as Moto Bug could dispense results. Being able to be defeated by any of Sonic's moves and not really posing a threat to Sonic at all, Moto Bug valiantly faced down this daring risk and stuck hard at his strategy, scooting perilously from this side of the hill to the other with utmost efficiency. His grand legacy will be forever enshrined in Green Hill Zone of the first Sonic game, and tales of his admirable determination and effort will live on in the hearts and minds of millions for years to come.

Yeah, so here's this giant enemy crab...... well, he's not so giant, but he IS a crab, and he IS your enemy. In fact, he is EVERYONE's enemy. The Crabmeat model which first appeared in various levels of Sonic the Hedgehog 1 is quite likely Dr. Robotnik's most nefariously evil designs. Scuttling about upon countless needle sharp legs of DOOM, Crabmeat was nothing but bad news to any unsuspecting blue hedgehog in red sneakers that would happen to speed on by. Unlike the most respectable Moto Bug, the snivelsome Crabmeat showed no rhyme and/or reason in which direction he would move - sometimes forward, sometimes backwards, sometimes he would even stop altogether! THE MADNESS. To make matters worse, this terrible contraption concealed hidden energy charges in his sickening claws, and would at complete RANDOM release bouncing energy balls of DEATH in not one, not three, but TWO directions! What reckless tenacity this cruel crustacean hast beset upon us! What if there were children nearby? What kind of example is he setting? Thankfully, Sonic was able to easily destroy these rapscallions by hitting their weak point for massive damage..... I mean, using the spin attack. Bastards.

Rotor Walrus of Freedom Fighting fame is one of the most memorable characters from the SatAM Sonic the Hedgehog cartoon and corresponding comics. Being the resident mechanic of Knothole, Rotor is well respected by Sonic and the other Freedom Fighters, and is a veteran member. Rotor has a calm and friendly demeanor, and his fix-it-up style has earned him admiration in the many contraptions he's built and fixed. He is responsible for most of Knothole's security and surveillance systems, as well as building Sally's handheld all-purpose device, NICOLE. While his past varies between continuations, its not a topic that is usually touched upon. Overall, Rotor is a pretty straightforward and likable asset to the Freedom Fighters of any continuity, and even made a cameo in Sonic Spinball.

Sonic Rush Adventure for the first time in the Sonic series offered something yet to be seen: Furry NPCs! While Sonic Adventure and later titles first introduced NPCs to the Sonic world, up until then they had all been(for whatever reason) humans. Sonic Rush Adventure however inroduced the Coconut Crew. Still not much in terms of creativity(they're just a bunch koalas), they each had their own identity and personality, as well as names(Tabby, Daikun, Muzy, Setter, Kylok, Gardon, and THE COLONEL), and they would each help you with different tasks. Tabby would give you special missions to complete, Setter would let you change your options settings, Muzy would let you listen to game music, and so on. Like everyone else in SRA, they exist in Blaze's dimension, and most of them refer to Blaze as "Princess Blaze" or "Her Highness" out of respect for her as their governor. Gardon is even one of her royal guards. Though these guys haven't made much of any impact on the series, I would like to think they were a step in the right direction in expanding Sonic's world and its other non-human inhabitants. Now if only it was actually SONIC'S world they lived in.....

This is for carrotia, bearenger, & Fockewulf.
WTF. Um..... okay, apparently these doofuses are from Tails Skypatrol, and act as the evil Wendy Witchcart's bumbling henchmen. Carrotia is a rabbit who(get this) flys around in a giant carrot, while Bearenger flies some kind of bullet bill and Fockewulf a hoverbike. In the game, Tails must race them... or... beat them... or something and make it to the end of the level. This however is impossible because Tails Skypatrol is pretty much unplayable. Regardless, here they are, in all their long-forgotton Game Gear "what was Sega thinking?" glory. Hmm.... now that I think about it, Bearenger kind of looks like Banjo. And Fockewulf reminds me of Sabrewulf. And Carrotia kinda looks like Conker's girlfriend.... it might just be the 4 gallons of Mountain Dew talking, but could Rare have something to do with these mooks?

INITIATING RECOVERY MODE. *BOOM* While the real E-102 Gamma is long and dead, Eggman decided to take the liberty and make a new one, named E-102 Chaos Gamma. Let it be known that these two are NOT the same robot. Chaos Gamma was featured as a playable character and common enemy in the GBA handheld fighter, Sonic Battle. He employed similar and different techniques from his predecessor, being able to process weapons like tasers, drills, large fists, and mine launchers. His infamous "recovery mode" was the best healing move in the game, and he was unique the fact that he would explode after being KO'd, dealing additional damage. In the story, he was accompanied by Guard Robos(which are just saturated versions of him) and was sent to destroy Sonic and pals dozens of times, all of which failed miserably. Which is odd considering he was actually one of the better characters when used right.

E-105 Zeta is different than the other robots. To defeat him, you need to destroy the cannons around his "head". Just lock onto all of them and fire.

When Zeta is defeated, you will have completed Hot Shelter. To get to the final battle, head to the large green area where the other characters fought Chaos 6. There, E-102 will immediately start the final fight with E-101 mk II.

E-101 mk II can be rather difficult, but his pattern is easy to learn. When he fires missiles at you, and lock onto them and destroy them. Then dodge out of the way when he flies at you, and then shoot him in the back. Repeat that pattern (while dodging his laser blasts) and he will be defeated. When that is done, you will have completed E-102 Gamma's adventure, but not the game!

If you've beaten every character's quest, you'll unlock this bad boy.


froggy is een kikker die altijd wegloopt en big gaat hem altijd weer zoeken.
sonic in hyper form
Following on from the succesfull e-100 series Badniks E-106 Eta was designed to be the ultimate robot, exceding in advanced weaponry, high IQ, and top speeds. Unfortunatly someone cocked up. Unit Eta has an arsenal consisting of a novelty corkscrew, a plunger (with attachments), and a parrafin cooker (for cooking Parrafin's). IQ is something of Debate (once rewirred the washing machine to the TV, resulting in a new soap channel being born). Speed on the other hand is satisfactory, Eta can reach speeds of up to 300MPH.........Backwards. Embaresed, Dr Ivo Robotnik Eggman O.B.E. finely dumped him of the coast of Britain one foggy night.

eggman met alle chaos eggs
(first apeared in eggs adventure)
no info
Galaxina is Cosmo's older sister, shown to worry a great deal about Cosmo and their mother, Hertia. She is physically similar to Cosmo, but with teal features, and is portrayed as very smart, sophisticated, and down-to-earth - the opposite of the dreamy Cosmo. In the original Japanese version, Galaxina has no name; she was referred to as onee-sama ("big sister") by other members of her clan. She is voiced by Veronica Taylor in English.
Helen is Chris Thorndyke's classmate, who is disabled. She sometimes accompanies Sonic and his friends on their adventures, and most of episode 14 is about her. Helen is 126 cm (4ft 2in) tall, weighs 36 kg (78lb), and is 11 years old.[14] When they are young, she shows no signs of having romantic feelings toward Chris, but in the future, Helen and Chris are romantically involved with each other. Helen's Japanese voice actress is Noriko Hidaka, and in the dub she is voiced by Amy Birnbaum.
Hertia (called Earthia in the English 4kids dub) is the mother of Cosmo and Galaxina. She is presumably the leader of Cosmo's clan, and chose to flee after the Green Planet was destroyed. Surviving on a fake Planet Egg, she transformed into her true self; a giant tree. The seeds that come from this tree make new offspring, depending if cared for or not. After that, she gives birth to the last of her offspring, which is Cosmo. She then grew weaker and died when the Metarex landed on their ship. She later appears in a holographic image on the abandoned Green Planet, showing how the planet fell. At the final moment of the forestation project, Hertia appears to Cosmo and tells her what to do, and suddenly, Cosmo's amulet shatters. Her last appearance is when Dark Oak has been defeated; suddenly a light (which is Hertia) appears to him and says that they have a second chance. They both then disappear in a flash of light and are never seen again
Jerome was the President's aide, and proved that he would do anything to maintain his lofty position, even going as far as calling in the military in one occasion out of fear the President will be kicked out of office and he will lose his job. He is 175cm (5ft 9in), weighs 68kg (151lbs) and is 42 years old.[15] In Episode 14, he calls the military to bring Sonic to the White House for a party (who refuses because of a planned outing with Chris' friend, Helen), and goes as far as to get the reporters purposely drunk (in the dub, it's toned down) so they'll stay. In Episode 21, he initially decides to call the military in (since Sonic refuses to race against Chris's uncle, Sam Speed), but decides against it and secretly calls Eggman and asks for his help. At the end, Jerome is exposed for making the deal, and is fired. Occasionally, one will see him as a homeless man in later episodes.

In the comic series, Jerome returns as a ranking figure in the anti-Sonic organization S.O.N.I.C.X., and is credited with creating their (somewhat ridiculous) name, having spent hours on the Internet to come up with it.


Sam Speed is Chris Thorndyke's maternal uncle and the leader of the Speed Team, a special unit of the Station Square police force that uses high-performance Formula racing cars. His rivalry with Sonic is a recurring theme throughout Sonic X's first two seasons. Sam Speed is 28 years old, 183 cm (6ft) tall, weighs 80 kg (176lb),[20] and he is voiced by Souichirou Tanaka in Japan and Frank Frankson in the US.

A running gag in the original Japanese version of the show involves Sam having a different nickname in each of his appearances, some examples being "Highway Star" and "Love Express". In the English version, his only nickname was "Speed King".


Scarlet Garcia is a reporter for SSTV news in Station Square and is praised by other journalists. She is in almost every episode of seasons 1 and 2 but is absent from the third. She is 32 years old, 167cm (5ft 6in) tall, weighs 58 kg (130lb)[21] and (as her name suggests) is red haired. Her clothes usually consist of an orange jacket, a skirt to match and a red blouse. Mr. Stewart (going by the name Franklin) teams up with Scarlet posing as a news director to get information on Project Shadow. Because Scarlet's father, who was also a journalist, died researching Project Shadow she was at first reluctant but eventually agreed to help Mr. Stewart. She is voiced by Megan Hollingshead in English.

She has also made appearances in the Sonic X (comic) where she is revealed to be the host of a local talk show called Station Square today.


Topaz is a GUN agent and the human partner of Rouge the Bat. Though at first the regimental Topaz disapproves of the scheming Rouge (who keeps calling her an old lady), the two become friends fast. Their main assignments involved striking at Dr. Eggman and retrieving the Chaos Emeralds, as well as serving as envoys between Sonic and his friends and the government.

Topaz also seems to have romantic inclination towards Chris Thorndyke's butler, Mr. Tanaka. The two have worked together on several occasions, and when Topaz lost in a tournament over the red Chaos Emerald, Tanaka gave her a necklace, a sign of a growing relationship between them.

Topaz's last appearance was when Sonic and his friends were returning home. She said farewell to her partner Rouge, who gave her a ring as a goodbye gift. This is quite unusual, as Rouge usually covets any jewel she comes across. She is voiced by Kayzie Rogers in the English version.

Topaz's outfit is very similar to that of the character Virtua City's female protagonist Janet Marshall from Virtua Cop 2 and Virtua Cop 3 and Anne Lewis from Robocop: The Animated Series.

Topaz still makes a few appearances in the Sonic X comic book, being once again, Rouge's partner, and their relationship is the same as in the show.

Nelson Thorndyke is the wealthy owner of a computer business, he is 43 years old, 180 cm (5ft 11in) tall, weighs 82.5 kg (185lb)[19] and is the father of Chris Thorndyke. He is married to Lindsay Thorndyke, and his father is Chuck Thorndyke. He is voiced by Ted Lewis in the English dub.
Once a member of Cosmo's race named Lucas, he was the one who engineered the birth of Metarex as a act of stuborn pride. Out of the Metrex, only Dark Oak had survived to completely merge into the seed-like planet he created to achieve his goal. It took Cosmo's sacrifice to weaken Dark Oak planet so that Tails, Super Sonic and Super Shadow can destroy him, with Oak in his original form seeing an image of Herthia within moments of his death. Dark Oak's Japanese voice actor is Jouji Nakata, and in the dub she is voiced by Jonathan Todd Ross.


E-77 Lucky is a ridiculous looking E-Series robot, created by Eggman to find the 7th Chaos Emerald in Season 1. His main body is a large bell with two visible eyes and the number 7 painted on in red, and he is covered in good luck charms, including 4 leafed clovers and rabbits' feet, he is exactly 100cm (3ft 3in) tall and weighs 100kg[18]. Lucky was created because Eggman believed that with a little more luck, he could obtain all seven Chaos Emeralds. At first, Lucky seems to have bad luck, and he is constantly falling down and getting into trouble. But later he is revealed to have good luck when he finds the seventh Chaos Emerald. After the first season, Lucky isn't seen again for a while, until the Emerald Tournament, where for a few rounds he remains on a good luck streak and continues to win by default, but finally loses against Emerl when he falls down during their fight. Lucky's only form of communication is through beeping, similar to R2-D2 of Star Wars fame.


Linsey Thorndyke (born Linsey Flair) is a beautiful famous actress and the mother of Chris Thorndyke, the father being Nelson Thorndyke, she is 37 years old, 170 cm (5ft 7in) tall, and her weight is secret.[17]. She is voiced by Naomi Shindoh in Japan, and Jennifer Blood in the US.